Version: v0.15
Getting Started
Execution​
# Select SMS while configuring your modules




npx @conduitplatform/cli deploy --config



Prerequisites

# Set up the Container Network




docker

 network create conduit





# Start Redis




docker

 run -d --name conduit-redis 

\




              --network-alias redis 

\




              --network 

"conduit"

 

\




              -h conduit-redis 

\




              -p 

6379

:6379 

\




              docker.io/library/redis:latest





# Start Conduit




docker

 run -d --name conduit-core 

\




              --network-alias conduit 

\




              --network 

"conduit"

 

\




              -h conduit-core 

\




              -p 

55152

:55152 -p 

3030

:3030 -p 

3031

:3031 

\




              -e 

REDIS_HOST

=

"conduit-redis"

 -e 

REDIS_PORT

=

"6379"

 

\




              ghcr.io/conduitplatform/conduit:latest





# Start MongoDB




docker

 run -d --name conduit-mongo 

\




              --network-alias mongo 

\




              --network 

"conduit"

 

\




              -h conduit-mongo 

\




              -p 

27017

:27017 

\




              docker.io/library/mongo:latest





# Start Database




docker

 run -d --name conduit-database 

\




              --network-alias database 

\




              --network 

"conduit"

 

\




              -h conduit-database 

\




              -e 

REGISTER_NAME

=

"true"

 -e 

CONDUIT_SERVER

=

"conduit-core:55152"

 

\




              -e 

DB_TYPE

=

"mongodb"

 

\




              -e 

DB_CONN_URI

=

"mongodb://conduit-mongo:27017"

 

\




              ghcr.io/conduitplatform/database:latest




# Start Router




docker

 run -d --name conduit-router 

\




              --network-alias router 

\




              --network 

"conduit"

 

\




              -h conduit-router 

\




              -p 

3000

:3000 -p 

3001

:3001 

\




              -e 

REGISTER_NAME

=

"true"

 -e 

CONDUIT_SERVER

=

"conduit-core:55152"

 

\




              ghcr.io/conduitplatform/router:latest



docker

 run -d --name conduit-sms 

\




              --network-alias sms 

\




              --network 

"conduit"

 

\




              -h conduit-sms 

\




              -e 

REGISTER_NAME

=

"true"

 -e 

CONDUIT_SERVER

=

"conduit-core:55152"

 

\




              ghcr.io/conduitplatform/sms:latest



For more information on how to configure the SMS module, see Configuration.
---
Using the Admin Panel​
Launch the admin panel and navigate to the SMS page.
Make sure you have configured your SMS provider and enabled the module.
Send SMS​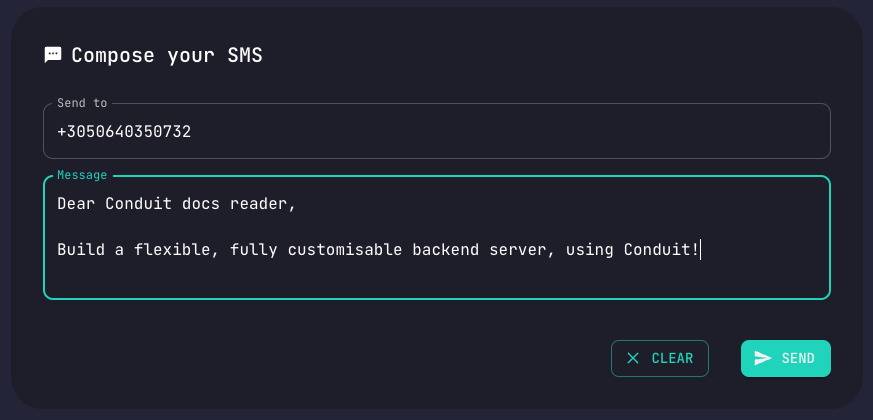 Specify your receiver's phone number and sms body, then click Send.